Ellie & Hart is our sister company making and selling laser cut and engraved product and gifts.
At Ellie & Hart we design and produce many household items, jewellery and gift in various materials from wood, acrylic, slate and more.  All items can be customised or personalised so please ask us if you'd like more information on this service.
Some of our items can be bought from our Etsy shop (see below) but our apologies if you cannot see the item you want listed. We are working to get everything online but in the meantime, please call or email and we can make arrangements to get your item made and to you.
Our Facebook page has a large selection of the products we have made so please check those out too.
Etsy Shop:
£10.00 GBP

£10.00 GBP

£10.00 GBP
£5.00 GBP

£5.00 GBP

£5.00 GBP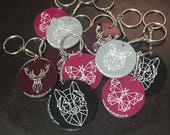 £6.00 GBP
£30.00 GBP

£30.00 GBP

£20.00 GBP
£8.00 GBP

£10.00 GBP

£10.00 GBP

£70.00 GBP

£10.00 GBP

£10.00 GBP

£8.00 GBP

£10.00 GBP

£7.00 GBP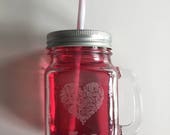 £8.50 GBP
| | |
| --- | --- |
| £12.00 GBP | £12.00 GBP |
What Our Customers Say
Owl Brooch
Great efficient service we absolutely love our custom made work Ross did for us. Would highly recommend.
Janine Millar – Brownie Leader
Slate Sign
I have used The Altered State / Ellie & Hart on a number of occasions for bespoke projects, and I was most impressed by the quality of work and the enthusiasm of Mr Ross Cameron, the owner. I have found Ross to be most approachable and helpful, and I will have no hesitation in using him in the very near future, as I have a few ideas to run by him…..
Mike Devery
Custom Game Board
Very impressed with this company and their customer service. We have ordered a few things, some of which they had never done before! These turned out brilliantly and the quality of the products are of high standard.
Will continue to use Altered State / Ellie & Hart for personalised products and would recommend highly.
Yvonne Mcdonald
Mobile Phone Stand
I absolutely loved this product! My dad was very happy as well. Great Father's Day gift. They really care about their customers! Thank you!
Brielle Lovato
Wood and Tweed Key Ring
This made a beautiful gift. The seller was very helpful and very responsive to messages. Thank you!
Nelly Christophylaki